At VENERATE we are committed to providing the best possible cycling experience by incorporating innovative technology into our products. Our state-of-the-art cycling shoes are designed to provide the ultimate combination of comfort, performance and style. Explore our technology and discover why VENERATE is the trusted choice of riders around the world.
Carbon Construction
Over 30 years of experience with carbon layer setup went into the development of our 360° support shape which is designed to maximize your power transfer at any given time of your pedal stroke. No matter if your climbing, sprinting, in or out of the saddle. 
Lacing System
For our high end cycling shoes we use a dual Atop lacing system which is tightened or loosened within a matter of seconds and can be easily operated single handed during your ride. Each of the Atop systems weights only 3,6 grams but paired with the strongest kevlar wires makes sure you can get the support and security you need.
Shape 
Our anatomically fitted foot bed offers you the right amount of arch support to bring the maximum amount of power onto your pedals. The carbon construction goes high up around the back of your foot and has a built in heel lock which will make sure you're always well secured against any sort of moving or slipping.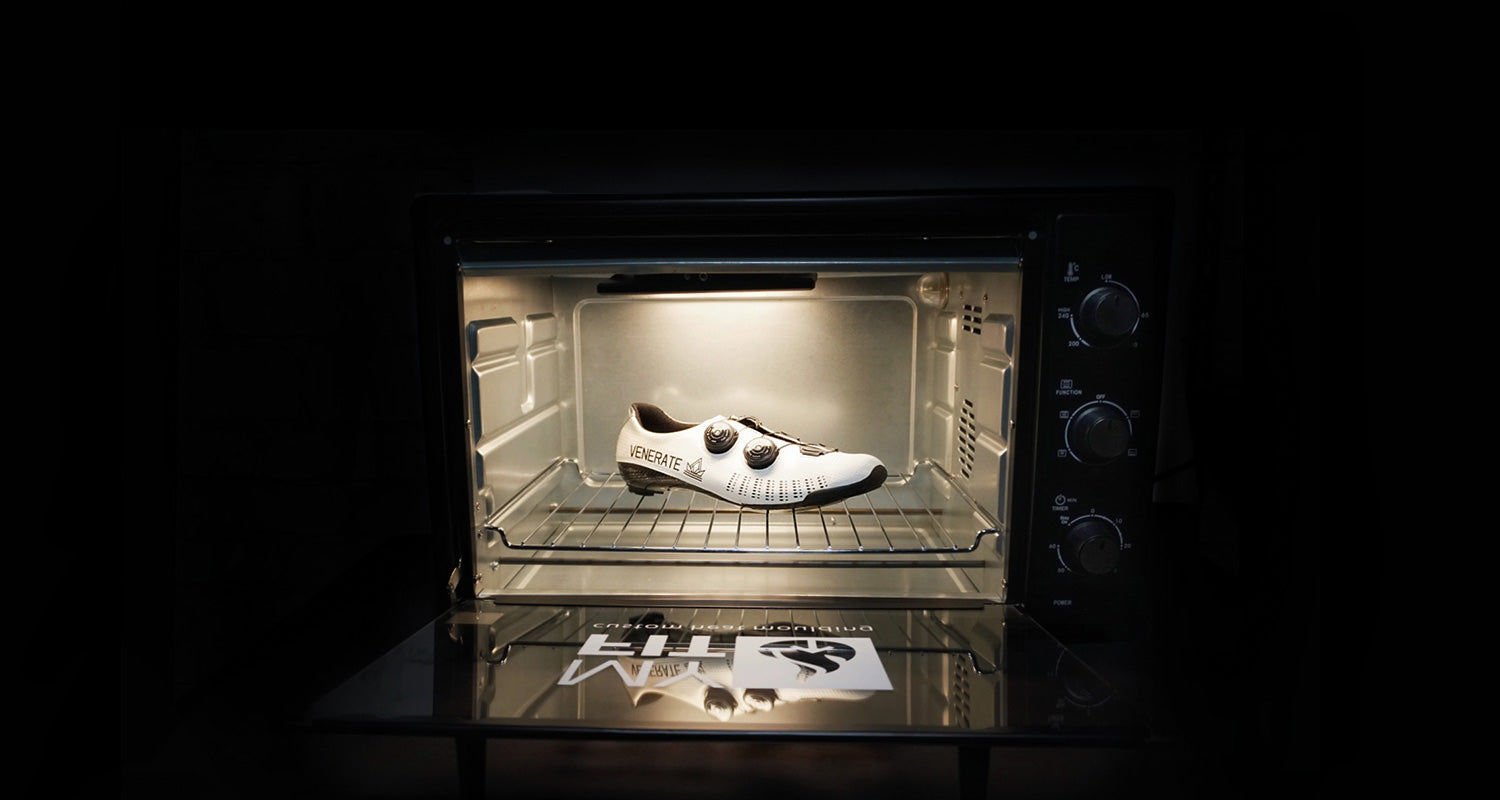 Heatmolding
We are particularly proud about the heat moldable qualities of our carbon fiber construction. Due to built in thermo sheets between the carbon layers you are able to fine tune your VENERATE cycling shoes within minutes at home! The simple but effective process will guarantee that any sort of pressure points can be eliminated and a customs fit made for you will be achieved.The easiest and most effective way to make your cycling shoes custom fit!
Upper materials
Our cycling shoes are made from a variety of materials, each with a specific function, which together create a high quality product. In the heel area, for example, we use a soft, supple Mircofibre material for comfort.
In other areas of the shoe, the focus is on excellent ventilation and air circulation, so mesh materials are used. Our aim is to provide road cycling shoes that are durable yet lightweight.
The materials we use are also synthetic and therefore vegan.
Reflective details
With the increasing dangers of road traffic, we've integrated reflective elements into our VENERATE ROAD CLASSIC for improved visibility. Barely noticeable during the day, they provide extra safety in low light conditions.